This website uses cookies and other technologies
This website uses cookies and other technologies to provide you with the best possible service. By clicking on OK or by simple use of the site, you accept these data processing. You will find more information under the privacy policy.
Our mission is to help entrepreneurs to build their dreams; we strive to assist them with the operational management and financing of their companies using innovative solutions.

We care for our clients' business as our own. We think and act like business partners, not like academic advisors. We believe in the development of a true partnership and thus our clients' challenges become our challenges. We are putting our heart and soul into helping our clients finding the best solution to their needs, concerns or problems. We share their aspirations, work to understand their reality, and align with their objectives, so they know we're in this together.

We conduct our work with an enthusiasm that is driven by the entrepreneurial spirit and willingness to fully engage with our customers. This gives us our exclusive character, particularly motivating for those who work with us.
Our key values are Proactivity, Innovation, Enthusiasm, Curiosity and Excellence. They inspire us and reflect our determination and desire to offer our customers a service of the utmost quality.

Because values without a meaning are simple and empty "clichés", each and every person at WEALTHINGS possesses and embodies these values. They are genuinely what we stand for, what we aim at and what we apply in our daily business lives.
State of mind that anticipates future changes, needs, issues or problems.

Being proactive means "taking initiatives".

Proactive behavior involves acting in advance of a future situation, rather than just reacting. It means taking control and making things happen rather than just adjusting to a situation or waiting for something to happen.

We have the initiative and responsibility to make things happen.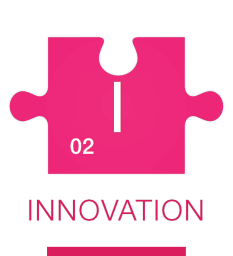 Introduction of something new or different, such as a new method, idea or solution.

Innovation refers to an imaginative way of coping with change.

Innovation is a state of mind; a state where you always aim for continuous improvement and constantly think of solutions that are off the beaten track or that no one has thought of.

Out-of-the box thinking is paramount.
A feeling of energetic interest in a particular subject or activity and an eagerness to be involved in it.

As an enthusiastic collaborator, we embrace the problems and launches projects with confidence.

The overflowing and positive energy we release around us through our way of speaking and interacting with others makes us a motor, a source of movement.

Enthusiasm is the first external sign of happiness in the workplace, as it is what is obvious to our customers, our partners or our colleagues.
The desire to learn or know about anything.

Curiosity is a part of the thirst for learning: it is our desire to know, to discover, to understand, to learn, to be confronted with novelty, to question things, to seek information , to observe, to analyze.

Curiosity presupposes enthusiasm, desire, interest, passion.
The quality of being outstanding or extremely good.

Excellence is a conscious decision not to settle for mediocrity, or "good enough", but to strive to do better.

Excellence does not mean being excellent, it means giving the best of ourself.

Excellence should not stop us being pragmatic.

Excellence is not a goal, but a path.
The greater danger lies not in setting our aim too high and falling short, but in setting our aim too low and achieving our mark.